Preston Memorial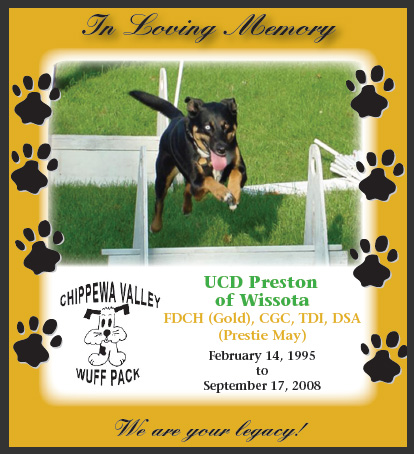 After Preston passed away on September 17, I sent this letter to our friends in the "dog world":

Dear Friends,

I have been trying for over a week to write this, so some of you already know, but for those that do not. It is with deep sadness I must tell you that my Preston passed away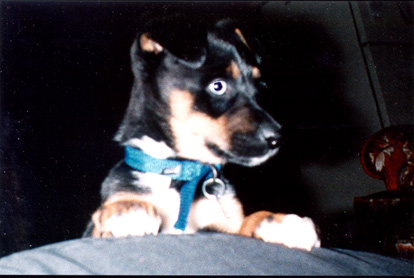 on Wed., Sept. 17.

You all shared a part of her life. I was honored to have shared in all but the first two months. We did everything together, obedience, tracking, agility, lure coursing, therapy work (even recently visiting her grandma after heart surgery), dog scouts, canoeing, kayaking, swimming, tricks, all the events at the seven dog camps we attended, 13 Humane Assoc. dog walks in Eau Claire and almost as many in Chippewa, but especially flyball. Preston had the confidence to try anything I would ask her to try, she never let me down. Preston and I especially liked our daily walks together, even if I had to bundle up in the winter - we had to walk every day. I remember the "turbulent" times too, in the beginning, but that is what bonded us. From a puppy who did not want human contact to one that loved me unconditionally. There is so much more to say about her, but you all know. She was one of a kind. There will never be another Preston. She was, quite simply the best.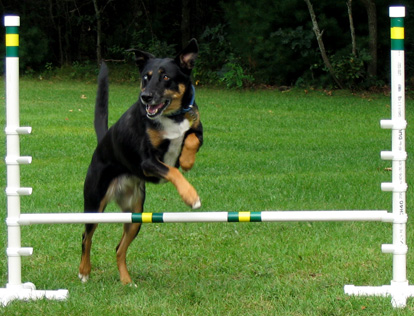 Randy Pausch said, "We don't beat the reaper by living long; we beat the reaper by living well". I believe Preston lived well and took me along for the ride. People say she was lucky that I adopted her, as not many people would have spent the time or effort to work with her. But I know I was the lucky one. Preston was the light of my life and I will always love and miss her. I will never forget all of the good time we had together.

I would like to give special thanks to:
The Eau Claire Humane Association for taking her in and allowing me to adopt her.

Ann Braue (ABCTC) without whom Preston would have gone back to the "pound". Preston and I bonded because of our training.

Flo Pulse for teaching Preston and me how to track.

Preston's medical staff:
Dr. Doris Durst and her staff (primary care since Preston was a Pup)
Dr. Simmerson (U of M)
Dr. Mary Schoenburg (Acupuncture)
The Chippewa Valley Wuff Pack for all of their support and the beautiful memorial to Preston (attached). Preston's legacy does live on through the Wuff Pack which would never had been started without her.

And to all of you who shared a part of Preston's life. I would have never met you if it had not been for Preston. For that and all the loving years I had with her, I am so grateful to my Preston.

Preston will forever be in my heart and I hope in yours too.

Rexann